Lancaster photo of thorns
12764897_1058029814257439_4383178548024115813_o
Thorn Hill Vineyards
Lancaster Wine Tasting Room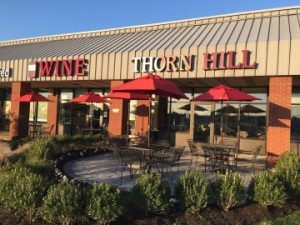 Foxshire Plaza
1945 Fruitville Pike,
Lancaster PA 17601
P: 717-517-7839
Join us for live music on Friday nights!
Hear about past experiences with us:
We were at Thorn Hill for a pre-scheduled tasting for our large group of ladies and had a fabulous time. Lorraine led the tasting and she was absolutely wonderful. She was friendly, gave us plenty of time to relax and enjoy, and had great information about the wine selections. They had a wine that everyone liked from sauvignon blanc, to cabernet, to ice wine. Everything was delicious and they were very accommodating.
LH
Good California wines and venue is awesome. Customer service is the best.
George Crist
Had the BEST time doing a wine tasting here with my coworkers this week! The staff was incredibly knowledgeable about their product and spent significant time sharing details with us. Would definitely recommend their wine and fun events!
Karisa Martin
We had a bridal shower for my daughter here. We had an entire private room to ourselves which was beautifully decorated, with private bathrooms. Wine was delicious. Rachel, the owners daughter was our personal server for wine. She even helped us decorate!
If your looking for somewhere with good fair rental prices and good customer service this place is a gem.
Patty Deitzel
Its good, love wild women and wine!
Nikki LoBianco
Great tasting experience! Great wine, atmosphere, and service. Lorraine was so nice and so knowledgeable on the different wines Thorn Hill has to offer. Definitely going back!
Jason Paulin
The staff was excellent and very attentive! The wine was very tasty! Atmosphere delightful! Unlike any winery I have ever visited in PA. This is a California based establishment that brings their product to Lancaster County and you can taste the difference.
Deborah Weaver
A singular wine-tasting experience in Lancaster County! Thorn Hill is the only California wine tasting room in Pennsylvania, offering daily personalized wine tastings, wine-tasting events, private parties, private events, and live music on most Friday evenings throughout the year. A boutique winery focused on delivering exceptional quality, Thorn Hill's world class wines are available by the glass, bottle or case.
Our welcoming tasting room feels like a "coffee house for wine," featuring Tuscan tile and mahogany accents. Patrons enjoy its casual elegance, relaxing at glass-topped tables of French oak barrels–once used to age Thorn Hill's signature red wines.
Thorn Hill Vineyards wines are also served at many fine central Pennsylvania restaurants.
Shop Online for Our Wines Too
Wine tasting was never so much fun! Stay up to date with local Lancaster and Thorn Hill Vineyards events and news. We host multiple events:
~ Private event space
~ Corporate events
~ Wine & Food Pairings
~ Art Gallery
~ Wine Maker Dinner at our Signature Restaurants
~ Wild Women of Wine (1st Wednesday of the month)
~ Book of the Month Club (1st Thursday of the month)
~ Trivia Night (Last Wednesday of the month)

MEET THE WINEMAKER
Amy Thorn, Winemaker/Owner, Thorn Hill Vineyards
At the turn of the millennium, with passion and a dream and twenty years of experience studying, exploring, and appreciating fine wines, Amy Thorn took a leap of faith and together with her husband Jack founded Thorn Hill Vineyards, one of California's treasured finds as a boutique winery.
Amy is one of an elite group of female winemakers that have helped transform the way California wines are made.  Her unique style balances intellect with intuition. She is committed to quality with a guiding principle that all her wines reflect their distinctive terroir and embody the hallmark characteristics of each varietal. Every wine she produces is 100% varietal pure and is bottled unfined and unfiltered. No collection is complete without the rare wines of Thorn Hill Vineyards.
Contact Thorn Hill
Do you want to hold an event at our location? Are you interested in experiencing a certain type of wine tasting? Reach out through this form or via phone 717-517-7839.